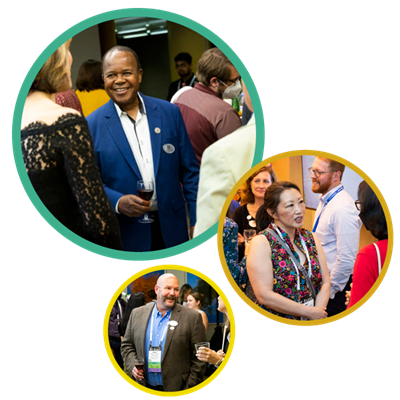 Curate and Build Your Network
IFT FIRST offers myriad opportunities to meet and connect with science of food professionals from around the globe. This year's event will host a robust lineup of intentional networking gatherings designed to help you gain and share knowledge, build and advance your career, learn about funding opportunities, and even close a business deal. Shake hands with international colleagues you've only met on Zoom. Get to know a scientist whose work you've long admired. Make connections with peers that lead to new collaborations. All of it is possible through IFT FIRST's rich and varied networking events.

Braindate is Back! Braindate is a digital platform that connects you to attendees in person, at IFT FIRST, to discuss topics/questions/insights that mean the most. Its your topic on your time. Whether it's a 1:1 or a group Braindate, you'll meet attendees eager to talk, with intention and purpose. Braindate puts you in front of people you would have never met. You'll stay connected long after your Braindate is over.
Scheduling is open! Braindates take place Monday-Wednesday of IFT FIRST. Located in the Grand Concourse of McCormick Place, look for the Braindate Lounge near registration. IFT FIRST Registered attendees, download the IFT FIRST mobile app and look for the Braindate icon or visit https://iftfirst.braindate.com.
Professional Networking Event
Invest in your future and attend the IFT FIRST Professional Networking Event on Monday, July 17. For just $75, you will have access to all 17 Division socials and gatherings plus food and beverage. It's the perfect fuel to kick-start conversations and build productive connections. Don't miss out on this unique opportunity to create business relationships and make lifetime connections!
IFT Divisions hosting socials at the Professional Networking Event:
Aquatic Food Products Division Social
Biotechnology, Food Microbiology, and Fruit & Vegetable Products Division Social
Carbohydrate Division Social
CFS 10-Year Anniversary
Dairy Foods Division Social
Education, Extension & Outreach Division Social
Food Chemistry Division Social
Food Engineering, Nonthermal Processing, Food Packaging, and Sustainable Food Systems Division Social
Food Laws & Regulations, Food Safety & Quality Management, and Toxicology & Safety Evaluation Division Social
Foodservice & Refrigerated & Frozen Foods Division Social
International Division Social
Marketing, Sales & Management Division Social
Muscle Foods Division Social
Nutrition and Nutraceutical & Functional Foods Division Social
Product Development Division Social
Protein Division Social
Sensory & Consumer Sciences Division Social
Are you already registered for IFT FIRST? Add the Professional Networking Event to your experience by logging in to your registration dashboard.
Meetups & Networking
Meet others as you fuel up for your day. IFT FIRST offers a range of Morning Meetups held in the North Concourse of McCormick Place. Grab a coffee and a donut and make a new connection before daily conference sessions and events begin. New to IFT FIRST? There's even a Monday meetup session to help newbies make the most of their FIRST experience. If you're not an early bird, there's lots more networking in store. Attend an IFT Networking Hour near the IFT Member Central booth for an engaging, facilitated experience that connects you with others of similar interests. These hourlong sessions—many sponsored by IFT's Resource Groups—include conversation starters and other icebreakers to help you make meaningful connections and discover IFT membership benefits you may not know about.
IFT First Timers Meetup
Nutritionists & RDs Morning Meetup
Intern Morning Meetup
Sustainability Morning Meetup
AI Enthusiasts Morning Meetup
Agriculture Morning Meetup
New Managers Morning Meetup
African, African American, Black Resource Group Networking
Early Careerist Networking
Research Chefs and Culinologists Networking
Women's Resources Group Networking
Proud (LGBTQIA+) Resource Group Networking
Plant Proteins Networking
Upcycled Foods Networking
Food Scientists, R&D, and Product Developers Networking