Your official networking & peer-learning experience at IFT FIRST
Only for IFT FIRST Registered Attendees, get started at: https://iftfirst.braindate.com.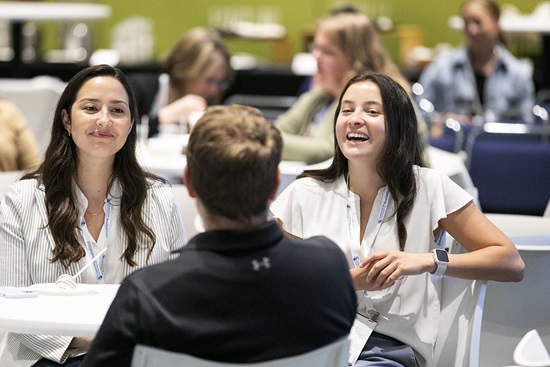 Sometimes going to a conference can be challenging and overwhelming. You want to network and make connections, but intentional networking is a struggle. What's the solution? Going on a Braindate is a fantastic way to meet people in an environment that's friendly where you can engage with others who are interested in the same topics as you! So how will Braindate work at IFT FIRST? Let's jump ahead to Monday, July 17 at McCormick Place in Chicago.
Experiencing Braindate at IFT FIRST
You've arrived at IFT FIRST and you notice a sign or happen to be standing by the Braindate Lounge where you see other attendees deep in conversation. Or perhaps you've noticed Braindate in the IFT FIRST app or Know Before You Go messages.
You wonder, "What is Braindate?" Then immediately, " Is this worth my time?"
Stay with us as we take you through the Braindate experience.
Braindate gives me the space and time I need to have meaningful conversations to evolve in so many ways, personally and business wise. - A Braindate User
What is Braindate exactly?
Braindate is a digital platform that connects people in person at IFT FIRST to discuss topics/questions/insights that mean the most to them.
Braindate gives strangers the rare opportunity to discuss whatever is top of mind. It could be anything from this year's IFT FIRST theme around future-proofing the food system to how to communicate effectively to non-technical audiences. Maybe you have a problem to solve.
For example, you are a co-packer and you want to discuss with others how to prepare for AI automation or may be you are interested in what your colleagues are doing to prepare for the FDA's new traceability requirements. Set up a Braindate on the topic and discover someone who interested discussing it with you.

Create a Braindate and you will connect, learn, and innovate around any topic you want to discuss or you can scan available topics and meet up for a Braindate exchange.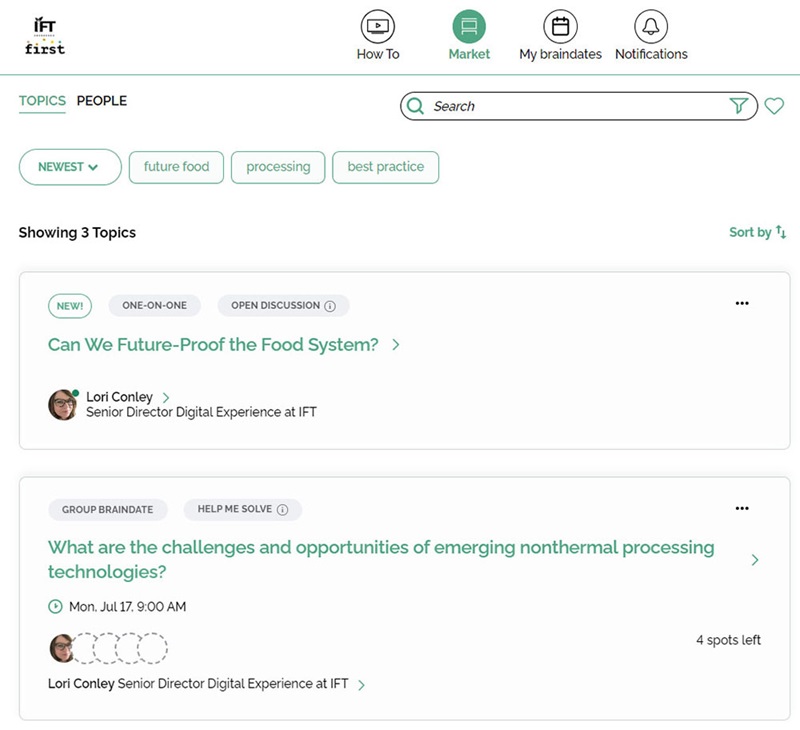 IFT FIRST registrants ONLY can access Braindate through the IFT FIRST mobile app or directly through Braindate:
Download the IFT FIRST mobile app and look for the Braindate icon or visit: https://iftfirst.braindate.com.
Select your question, challenge or area of interest and decide whether you want a 30-minute 1:1 session or a 45-minute group session.
Post to Braindate's Topic Market (see sample above).
Attendees with similar interests or challenges will book to discuss your topic in person at the Braindate Lounge (located in the North Concourse)  
What's it like to participate in a Braindate?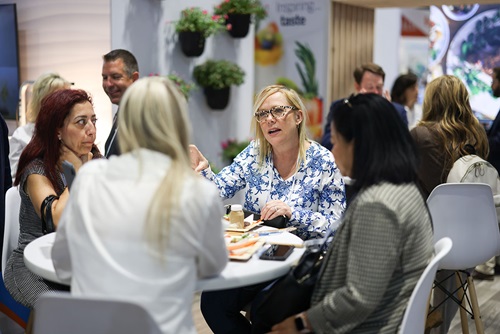 Whether you are the topic host or a participant, you will make your way to the Braindate Lounge located on the Grand Concourse of McCormick Place (hint: Its near registration)
After you check in with a Braindate Learning Concierge, you will be escorted to a reserved conversation space.
Everyone will introduce themselves and then your Braindate topic discussion starts.
Cue the discussion. Everyone is a contributor and learner. There is laughter, insights and healthy counterpoints. Based on our experience (yes, IFT team members have participated in many Braindates), the time goes surprisingly fast. If your Braindate goes over the allotted time, a Braindate representative will let you know.

Feel free to linger a bit longer. It's very common for people to want to exchange contact information or schedule an additional one-on-one Braindate or future meeting to continue the conversation. This is where connection beyond the event truly happens.
With Braindate, you personalize your event experience. You form a deeper connection with your community and gain knowledge above and beyond event programming. It just requires that you are open to meeting new people. - A Braindate User
If you need more convincing, here are five key reasons that Braindate is an experience you don't want to miss:
Discover what are the hot topics of conversation with the science of food community. Braindate fosters dedicated time for attendees to dive deeper into IFT FIRST thematic programming and address topics that affect their day-to-day life. The Braindate platform offers valuable insight into what's top of mind for your peers.

Establish yourself as an expert. You have skills, experience and expertise. Use Braindate to share the wealth of your knowledge with others in the community. Your unique perspective is exactly why others will be excited to meet you.

Troubleshoot a challenge you're facing at work. Leverage the power of our community. Set your challenge up as a group Braindate topic and lean on the expertise and advice of your peers. Braindate helps to supplement what you are learning at IFT FIRST and then will take you a step further.
Find passionate individuals and human moments. Bye to Zoom video calls and Team chats... When you post a Braindate topic about something that you're passionate about and is personal to you, it acts like a homing beacon, attracting others who can relate. For example: Working Moms in Sensory Science, Let's Talk; My Second Act, consulting after retirement; Share your tips for reducing food waste at home.
Meet your next collaborator, mentor or business partner. Intentional networking is just another fabulous side-effect of knowledge-sharing conversations. One key to success is understanding that decision-makers are busy – you are busy. With Braindating, you can meet people faster. You may just find your next collaborator, mentor or business/research partner.