Sponsorship Opportunities

IFT FIRST is the largest B2B food innovation expo in the Americas and your destination to meet highly engaged professionals in product development, R&D, procurement, and more.
Exhibitors with a sponsorship developed 55% more sales leads while at IFT FIRST in 2023.
Who you'll meet:
91% of attendees make or influence their company's buying decisions
43% of buyers spend over $1M annually
Discover how IFT FIRST sponsorship opportunities can help you get your brand in front of decision makers and generate leads that will help you reach all your marketing goals. See all sponsorship opportunities here.
Questions? Contact our Sales Team.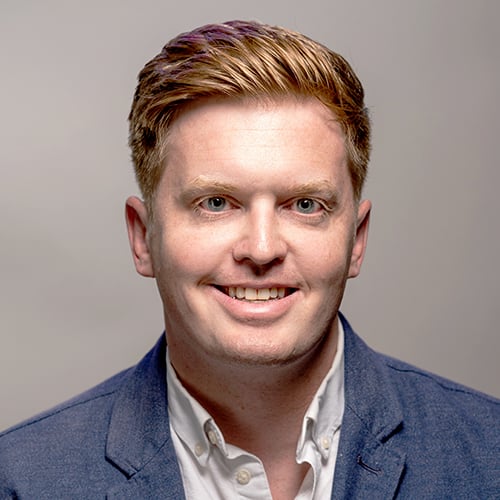 Dustin Winterland
Sr. Sales and Sponsorship Account Manager
Midwest, West Coast, LATAM, APAC, Africa
Not sure who your Strategic Account Manager is? Contact Shivani Trivedi, Sales Systems Administrator.
Sponsorship Levels
Platinum Sponsor Recognition Package ($50,000 and higher)
IFT FIRST website tiered Platinum Sponsor recognition
Platinum level recognition on Sponsor Thank You banner at IFT FIRST
Platinum level recognition on rotating welcome slides at various IFT FIRST sessions
Platinum level recognition in Sponsor Thank You ad in pre-show and post-show issues of Food Technology magazine
1/2-page Exhibitor Spotlight in one pre-show issue of Food Technology
Post-show sponsorship report
Inclusion in IFT event sponsor thank you via Twitter
Booth location highlighted in online IFT Food Expo® map
5 Invitations to President's Reception
5 complimentary passes to Monday night's premier networking event
Right of first refusal renewal for sponsorship at IFT FIRST 2025 (pending available inventory)
Complimentary attendee pre-show mailing list (physical address only)
Platinum sponsor ribbon for exhibit staff name badges
Global spend priority points, 1 point/$5,000 investment
Gold Sponsor Recognition Package ($30,000 - $49,999)
IFT FIRST website Gold Sponsor recognition
Gold level recognition on Sponsor Thank You banner at IFT FIRST
Gold level recognition on rotating welcome slides at various IFT FIRST sessions
Gold level recognition in Sponsor Thank You ad in pre-show and post-show issues of Food Technology magazine
1/4-page Exhibitor Spotlight in one pre-show issue of Food Technology
Post-show sponsorship report
Inclusion in IFT FIRST sponsor thank you via Twitter
Booth location highlighted in online IFT FIRST Expo® map
Right of first refusal renewal for sponsorship at IFT FIRST 2025 (pending available inventory)
Complimentary attendee pre-show mailing list (physical address only)
Gold Sponsor ribbon for exhibit staff name badges
Global spend priority points, 1 point/$5,000 investment
Silver Sponsor Recognition Package ($15,000 - $29,999)
IFT FIRST website Silver Sponsor recognition
Silver level recognition on Sponsor Thank You banner at IFT FIRST
Silver level recognition on rotating welcome slides at various IFT FIRST sessions
Silver level recognition in Sponsor Thank You ad in pre-show and post-show issues of Food Technology magazine
Post-show sponsorship report
Right of first refusal renewal for sponsorship at IFT FIRST 2025 (pending available inventory)
Silver Sponsor ribbon for staff name badge
Global spend priority points, 1 point/$5,000 investment
Bronze Sponsor Recognition Package ($10,000 - $14,999)
IFT FIRST website Bronze Sponsor recognition
Bronze level recognition on Sponsor Thank You banner at IFT FIRST
Bronze level recognition on rotating welcome slides at various IFT FIRST sessions
Bronze level recognition in Sponsor Thank You ad in pre-show and post-show issues of Food Technology magazine
Bronze Sponsor ribbon for staff name badges
Access to IFT event press list prior to event
Global spend priority points, 1 point/$5,000 investment
Annual Event Supporter ($9,999 or less)
Access to IFT event press list prior to event
Global spend priority points