Product Development Hackathon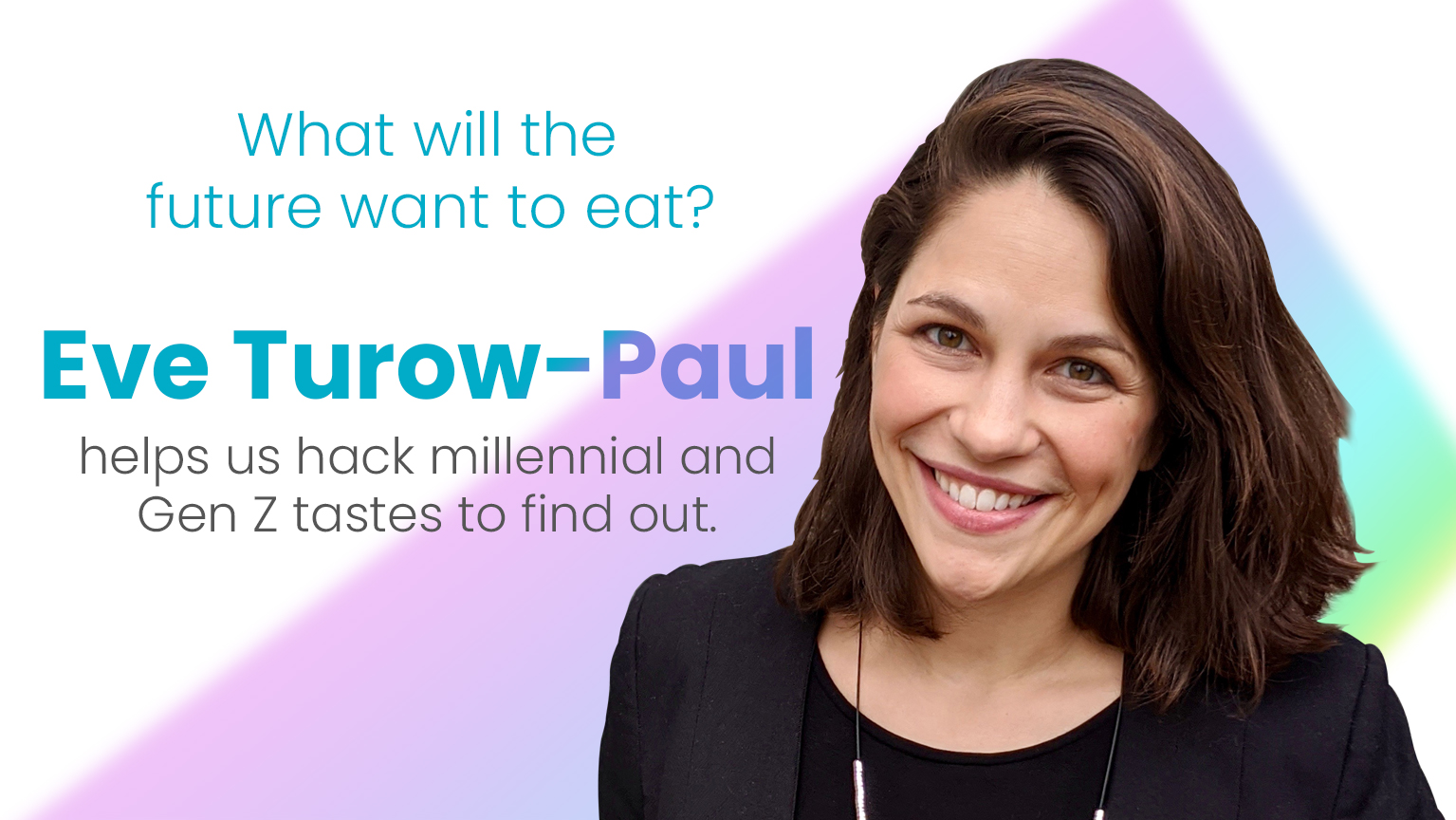 Hacking Millennial and Gen Z Tastes
How do you address generational differences and demands in the shifting consumer base? Join us for an exciting, virtual product development hackathon informed by the work of Eve Turow-Paul, the author of A Taste of Generation Yum and the go-to expert on the high-value realm of millennials and food, and conducted by Bob Jones, CEO of Scientific Nutrition Products, Inc.
*SHIFT20 Registration Required
About Eve Turow Paul
Eve Turow-Paul is an author and globally-recognized thought-leader whose work is focused on the intersection of food culture, the Digital Age, and well-being. By blending qualitative and quantitative methods, Turow-Paul explores the 'why' behind today's biggest food and lifestyle trends. Turow-Paul utilizes her decade of empirical research to advise Fortune 500 companies, start-ups and independent entrepreneurs on how to connect with and better serve people in the Digital Age, particularly Millennials and Generation Z.

Eve Turow-Paul is the author of Hungry: Avocado Toast, Instagram Influencers, and Our Search for Connection and Meaning (BenBella, 2020) and a Forbes contributor. Her writing on food trends and human behavior has appeared in a number of publications including The Chicago Tribune, Plate, The Village Voice, on The Atlantic, Refinery29, Huffington Post and more. Eve was prominently featured in the documentary film WASTED! The Story of Food Waste, which premiered at Tribeca Film Festival. Eve is the Founder and Executive Director of the Food for Climate League, a non-profit research collaborative re-thinking the food and climate narrative to democratize sustainable eating and help companies, organizations, and governments empower all eaters to tackle the climate crisis bite-by-bite.
About Bob Jones
Bob is CEO of Scientific Nutrition Products, Inc. The company addresses medical conditions by creating and selling nutrition-based products. Their first product is a 2½ oz. beverage that promotes sleep. Food for Sleep.
Bob was previously a Principal at Scientia Advisors, a strategy consulting firm, where Bob led the Nutrition and Wellness practice. Prior to Scientia, Bob was President and CEO of Vitasoy USA, Inc., the nation's largest marketer and manufacturer of tofu and the pioneer of soymilk in America. This was a management turn-around. In a two-year period, Bob consolidated the manufacturing operations, improved the supply chain logistics, reduced headcount, upgraded the management team and the sales force, repositioned the company and its products, and jump-started new product development. He was instrumental in turning around a troubled company.
Before joining Vitasoy, Bob launched three start-ups in the medical nutrition field. Each company addressed chronic medical disorders such as diabetes via specifically targeted nutrition products (rather than with drugs). All three start-ups were with staff and faculty at Harvard Medical School. Each company turned leading-edge science into consumer products that were sold through retail pharmacies.
Bob has held executive positions at several other companies, including Abbott Laboratories and Baxter
International. He has two awarded patents in the field of nutrition. He is an active mentor with MIT's Venture Mentoring Service and has served as a judge in MIT's 100K Business Plan Competition. He has an A.B. in biology from Princeton University, and an MSM (MBA + thesis) from MIT Sloan. After hours, Bob plays in a blues band in the Boston area, and is part of a volunteer group that plays and sings in homeless shelters.