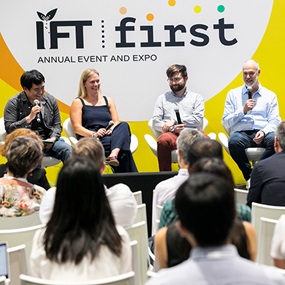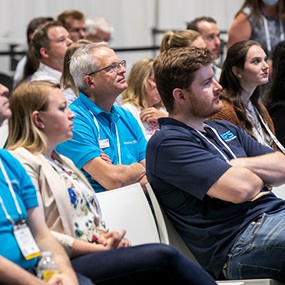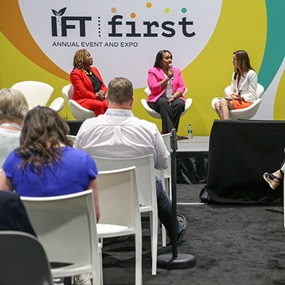 Live On Stage from IFT FIRST. Your inner entrepreneur is going to love the programming for Business FIRST. Startups and investors alike will have the opportunity to experience dynamic live panel discussions on a variety of topics impacting the future of food. Check back regularly for programming updates.
Business FIRST is presented by IFT's flagship magazine, Food Technology, the leading publication addressing all facets of food science and technology. Its in-depth and balanced coverage includes the latest research developments, industry news, consumer product innovations, and professional opportunities.
Registration is open. Secure your spot today!
Business FIRST Stage Programming Preview
Monday, July 17, 2023
3:00-3:45 pm
Building the Business Case for Regenerative Agriculture: Most of what we eat is directly or indirectly tied to topsoil that many fear is increasingly degraded. In recent years, regenerative agriculture has come to the forefront as a tool to mitigate climate change, revitalize the health of our soil, and ensure an abundant food supply. But what impact will regenerative agriculture have on food product development? Hear from a diverse group of experts on the opportunities and challenges in building a regenerative ingredient supply chain and strides some food manufacturers have already made.
Tuesday, July 18, 2023
10:30-11:15 am
Marketing Disruptive Businesses to Investors and the Public: Convincing investors and consumers to buy into a brand-new product concept or a cutting-edge technology isn't a slam dunk for startups—no matter how good the idea is. Here's how a group of food system innovators honed their messages, reached the right audiences, overcame initial resistance, and found their niches in the marketplace.
3:00-3:45 pm
How to Navigate a Supply Chain Failure: Disruptions in complex supply chains are nothing new but the COVID-19 pandemic, civil unrest, and global events such as the war in Ukraine unleashed a perfect storm of unique challenges for food companies. Find out how food and ingredient manufacturers pivoted to overcome supply chain failures and create opportunities for success in other parts of the business, including high-tech logistics and DE&I initiatives. Get expert insights and takeaways through the lens of procurement, R&D, and food safety and quality assurance.
Wednesday, July 19, 2023
10:30-11:15 am
Adapting to New Realities of Food Product Development: What does a 21st century product development team look like? How must professionals adapt and navigate a constantly changing slate of data inputs, timelines, budgets, and novel production technologies? Join our panel of R&D pros to hear what new skillsets are required, and how they've retooled to build and maintain a nimble, effective, and collaborative team.