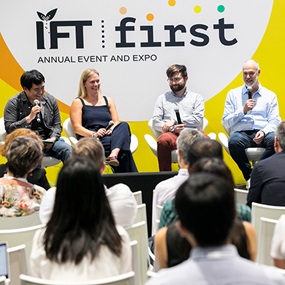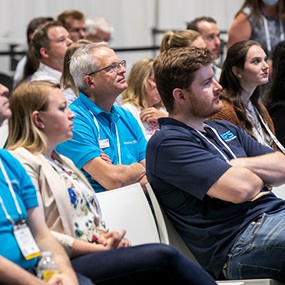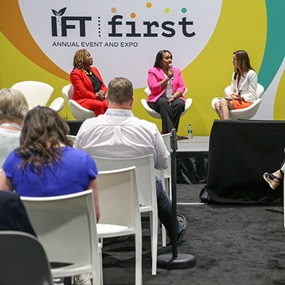 Live On Stage from IFT FIRST. Your inner entrepreneur is going to love the programming for Business FIRST. Startups and investors alike will have the opportunity to experience dynamic live panel discussions on a variety of topics impacting the future of food. Check back regularly for programming updates.
Business FIRST is presented by IFT's flagship magazine, Food Technology, the leading publication addressing all facets of food science and technology. Its in-depth and balanced coverage includes the latest research developments, industry news, consumer product innovations, and professional opportunities.

Business FIRST Stage Programming Preview
Monday, July 17, 2023
10:30 - 11:00 am
Reimagine Functional Food & Beverages: How Ergothioneine Supports Healthy Aging Presented by Blue California: The last time an alphabet vitamin (Vitamin A, B, K, D, E) was classified and updated was in 1948. Join us to discover ergothioneine, the revolutionary ingredient that could be the next "longevity vitamin."
ErgoActive® ergothioneine is compatible with food, beverage, and nutritional supplement applications, making it an excellent ingredient for the food industry. In this session, learn more about this cutting-edge ingredient and how it can help you meet consumer demand for clean label, science-backed, and healthy ingredients while contributing to healthy aging.
11:30 am - 12:00 pm
The Power of Plant Proteins: Making Life Better for Brands, Consumers, and the Planet Presented by Ingredion: Join our Ingredion experts as they share new proprietary consumer insights on plant-based protein seekers, the archetypes of consumers, and the greatest purchase drivers within each sub-group across food and beverage categories—from specific taste and texture attributes to sustainability claims and nutritional benefits.
12:30 - 1:00 pm
Harvesting Health: Leveraging the Power of Plants for a Healthier Society Presented by DSM: In a world grappling with increasing public healthcare costs and a pressing need for sustainable dietary choices, this session aims to shed light on the transformative potential of plant-based diets. Join us as we explore the intricate relationship between plant-based nutrition, public health, sustainability, and the challenges faced by food producers in embracing this paradigm shift.
Our expert panel will delve into the dynamic landscape of public health concerns and highlight the significant role that plant-based diets can play in addressing these issues. We will unravel the compelling scientific evidence linking plant-based nutrition to the prevention and management of chronic diseases, including obesity, cardiovascular disease, and diabetes.
2:00 - 2:30 pm
Out With the Egg, in With the Plants: Ardent Mills' Alternatives to Egg Market Volatility Presented by Ardent Mills: As the egg market continues to fluctuate, product developers in bakeries and CPG manufacturing struggle to find a solution that solves pricing and supply challenges with eggs. In this session, Ardent Mills will discuss egg market volatility, our product development work, and Ardent Mills Egg Replace, our newest innovation that replaces liquid and dry whole eggs in bakery items and batter applications.
3:00 - 3:45 pm
Building the Business Case for Regenerative Agriculture: Most of what we eat is directly or indirectly tied to topsoil that many fear is increasingly degraded. In recent years, regenerative agriculture has come to the forefront as a tool to mitigate climate change, revitalize the health of our soil, and ensure an abundant food supply. But what impact will regenerative agriculture have on food product development? Hear from a diverse group of experts on the opportunities and challenges in building a regenerative ingredient supply chain and strides some food manufacturers have already made.
4:00 - 4:30 pm
Product and Process Design—Your Key to a Uniform Finished Product Presented by Eurofins: New products can be hard to translate from the bench to manufacturing. Developing good in-process specifications in the pilot plant and on the bench can improve your chances of success.
We will discuss examples of scale-up issues, why you would measure certain attributes, and how manufacturing issues may not have been properly tested prior to launch. Additionally, we will address why your label claims may not be your release specification, particularly for supplements and fortified products.
Tuesday, July 18, 2023
10:30 - 11:15 am
Marketing Disruptive Businesses to Investors and the Public: Convincing investors and consumers to buy into a brand-new product concept or a cutting-edge technology isn't a slam dunk for startups—no matter how good the idea is. Here's how a group of food system innovators honed their messages, reached the right audiences, overcame initial resistance, and found their niches in the marketplace.
11:30 am - 12:00 pm
Reducing Food Waste by Extending the Shelf-life of Baked Products Presented by Innophos: One of the primary causes of food waste in high-moisture foods like bread and baked goods is mold. But what if there was a solution that reduces mold, results in a fresher bakery product, and improves the bottom line?
Innophos has developed a patent-pending ESL technology that doubles shelf life while maintaining volume and texture with less chemical preservatives in products such as doughnuts and sponge, crumb, and pound cakes. This presentation covers multiple studies showcasing how LEVAIR® ESL prevents the hardening of the crumb (stale products) as well as reducing microbiological changes, such as the appearance of molds.
12:30 - 1:00 pm
Making the Case: Sustainable Drying Solutions That Don't Sacrifice Quality Presented by Bepex: Join us for a deep dive into sustainable drying solutions that deliver superior product quality. Our team has been driving the development of innovative technologies that reduce emissions, increase sustainability, and boost efficiency while maintaining the high standards of today's ingredient market.
In addition to discussing the science behind our technology, we'll also present case studies that demonstrate cost savings, quality benefits, and progress gained towards sustainability targets. These will include analysis of BTU and emissions reductions, as well as the ways the technology can improve your overall product quality.
2:00 - 2:30 pm
Building a Sustainable Future for Food: The Role of Molecular Simulation and Machine Learning Presented by Schrödinger: To address product development challenges and maintain a competitive edge, a comprehensive understanding of ingredient behavior within products is crucial. Molecular simulation techniques offer a unique opportunity to predict how individual ingredients interact within formulations. Unlike process simulations, which require many inputs that are often not known, molecular models comprising millions of atoms can be constructed based solely on chemistry and composition, enabling accurate property predictions.
Join us in this talk as we delve into the cutting-edge advancements in molecular modeling techniques tailored for flavors and ingredient research, propelling product innovation in the food and beverage industry.
3:00 - 3:45 pm
How to Navigate a Supply Chain Failure: Disruptions in complex supply chains are nothing new but the COVID-19 pandemic, civil unrest, and global events such as the war in Ukraine unleashed a perfect storm of unique challenges for food companies. Find out how food and ingredient manufacturers pivoted to overcome supply chain failures and create opportunities for success in other parts of the business, including high-tech logistics and DE&I initiatives. Get expert insights and takeaways through the lens of procurement, R&D, and food safety and quality assurance.
4:00 - 4:30 pm
Understanding the Consumer Mood-Scape : How to Leverage Empathy to Drive Disruptive Food & Beverage Innovation Presented by Sweegen: What role do moods play in consumers' food and beverage choices as it relates to their health and wellness goals? Sensegen's proprietary quantitative research conducted nationally with 1,500-plus consumers explores the food and beverage choices people make in different situations, how their moods affect those decisions, and the reasons why.
Insights from this research are helpful to food and beverage companies to inspire their innovation with mood-centric flavors. Categories explored include low- and no-alcohol beverages to functional (sports and energy drinks) to carbonated beverages.
Wednesday, July 19, 2023
10:30 - 11:15 am
Adapting to New Realities of Food Product Development: What does a 21st century product development team look like? How must professionals adapt and navigate a constantly changing slate of data inputs, timelines, budgets, and novel production technologies? Join our panel of R&D pros to hear what new skillsets are required, and how they've retooled to build and maintain a nimble, effective, and collaborative team.
12:30 - 1:00 pm
How Polyphenols Deliver Solutions for Clean Label Lipid Oxidation Control and Shelf Life in Foods and Snacks Presented by Layn Natural Ingredients: Synthetic chemicals have traditionally played the role of primary and secondary oxidation control agents in foods. However, today's consumer is increasingly demanding more clean label, natural solutions—and regulatory governance of synthetics is increasing. Polyphenols in select functional botanical extracts are ideally suited for the task.
Attend this session to learn about using natural polyphenols across a variety of food and snack substrates to prevent rancidity and extend shelf life, including a specific focus on polyphenols for chelation.