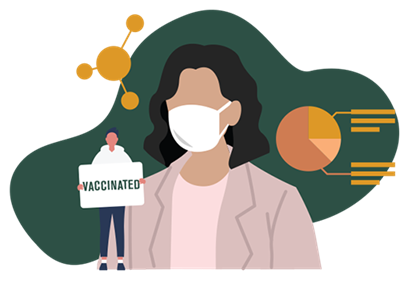 As a non-profit dedicated to bringing together the global food community, IFT would like to extend support to our members, friends, colleagues, partners, exhibitors, and peer organizations who have been impacted by the current Coronavirus (COVID-19) health emergency over the past few years.
We are excited to be back for an exciting and transformative experience at IFT FIRST: Annual Event and Expo July 10-13, 2022. As we do so, we will maintain an open dialogue with our community and provide updates via the IFT FIRST website, social media, and dedicated emails to registrants, exhibitors and IFT community members. Be sure to carefully review the Covid Event Entry Requirements section below for important information regarding your admittance to IFT FIRST.
As COVID-19 continues to be an evolving situation, IFT will constantly monitor and seek expert counsel in order to provide all IFT FIRST participants with a safe and beneficial experience.
Please check back for additional updates.
Expand All
/
Collapse All
Covid Event Entry Requirements

IFT FIRST Health and Safety Plan

The safety and security of IFT FIRST participants is of utmost importance to IFT. To help mitigate COVID risk, IFT is requiring that participants meet ONE of the following requirements in order to attend the event.

Show proof of full vaccinations. See the note below for domestic and international audiences:

U.S. attendees are considered fully vaccinated with 2 shots of Moderna or Pfizer or 1 shot of the Johnson and Johnson vaccine (Boosters are not required.)
International Attendees (those outside of the U.S.), are considered fully vaccinated with 2 shots of any vaccine approved by the World Health Organization (WHO).
Please refer to the link below for a list of acceptable vaccines recognized by WHO.
WHO – COVID19 Vaccine Tracker (trackvaccines.org)
Proof of vaccinations will need to be uploaded in advance of the meeting. Details regarding how to upload vaccination information is forthcoming. Attendees will receive a notification via email upon approval. It is highly recommended that attendees upload their vaccination information in order to receive their approval notification via email prior to their arrival onsite.


OR,

Submit a negative COVID-19 test.

Attendees will need to provide proof of a negative COVID test (Rapid or PCR- home tests are not eligible) within 72 hours of attending the show. Tests must be antigen or molecular (LAMP or PCR) that are administered by a licensed clinic, pharmacy or doctor.
Proof of a negative test must be brought to the Safe Expo check in desk prior to picking up your registration badge.
Please Note: Advance 72 hour negative COVID test uploads are not available due to timing of the test.


COVID testing will be available onsite at McCormick through Safe Expo.

Anyone who shows up without a vaccination or negative test will have the ability to go to Safe Expo testing to receive a negative COIVD test for entrance. Note: your admittance may be delayed waiting for test results.
Testing will be at the expense of the attendee (COVID testing location will be near registration in Room S102, Level 1 of McCormick Place).
We will follow local mandates regarding face masks at the time of the event, whatever those happen to be. At a minimum, masks will be optional.
IMPORTANT: Attendees that do not provide vaccination cards, proof of a negative test, or test positive for COVID will be denied entry to event.

Health and Safety at IFT FIRST

IFT has taken the following steps to help ensure the safety and security at IFT FIRST:

Close monitoring of Coronavirus (COVID-19) developments through several resources including local, national, and international public health department and agency sources to provide the most up to date information to inform our planning
Requesting that all attendees to review and comply with the IFT FIRST Wellness Policy that will be provided to all participants during the registration process.
Contracting with Safe Expo, a pre to post Health and safety monitoring service for events that will help to ensure all policies and procedures for COVID-19 are being followed onsite at the event.
Partnering with Epistemix, a company that utilizes statistical data and accurate virtual populations, to help inform us on our COVID policies and safety protocols.

IFT FIRST COVID Procedures and Precautions

Encourage all attendees to follow recommended guidelines for travel back home following the event
Make available sanitizer stands throughout event and encourage frequent handwashing
Ensure that all event buses are properly cleaned and disinfected during rides
Require all IFT staff, temporary labor, vendors, and suppliers in contact with any attendees at show will follow COVID protocols
Encourage all attendees to test before leaving for IFT FIRST - For your own peace of mind, we strongly recommend taking a COVID-19 test before you depart for Chicago and the day after you arrive onsite.

Review the following resources to stay up to date on latest health developments and best practices:
Questions?
Please reach out to IFT Central at
[email protected]
or by phone at:
Toll-Free: 1.800.IFT.FOOD (800.438.3663)
International: +1.312.782.8424
Note: Phone support hours are Monday–Friday, 8:15 a.m.–4:45 p.m. (CT)