Live and In-Person
IFT FIRST Short Courses were created to provide the science of food community with resources and skills for career development and to learn relevant knowledge that can be applied in the workplace.
Short course registration includes:
Digital course materials
Lunch
A course certificate
All Short Course attendees will also be invited to a Happy Hour opportunity at the end of the day. No preparation or pre-work is required to attend any course.
Questions? Contact IFT staff at [email protected]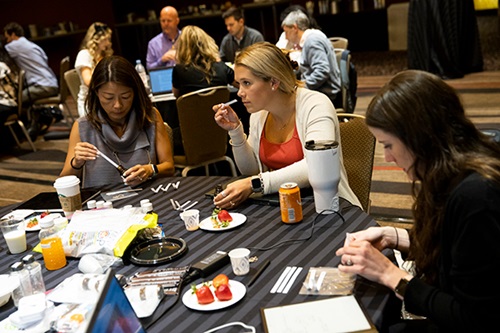 Expand All
/
Collapse All
Certified Food Scientist (CFS) Preparatory Course

This optional course is designed to help people considering or preparing to take the Certified Food Scientist exam to earn their CFS credential. A "crash course" in all eight content areas covered on the exam, this course brings in experts from academia and industry to go over the key topics and concepts in their respective content area.

Food Science for the Non-Food Scientist

Learn the basic principles of food science in one of IFT's most popular courses. Equip yourself with an enhanced understanding of the role of food science in the development of food products, gain a better understanding of the importance of food safety, basic regulatory issues and food science trends.

Labeling Requirements and Implications for Foods Marketed in the U.S.

Food labeling requirements in the U.S. are complex, and you need to stay ahead of the curve as they continue to be redefined. This course will provide you with the foundational and practical knowledge you need to comply with new and established labeling laws and regulations.

A Simplified Approach to Shelf-Life

This course will provide examples of how-to setup an accelerated shelf-life study, use the data to create a hygrothermal time model to predict shelf life at a range of storage conditions, provide instruction on how water activity controls microbial spoilage and how to prevent and model moisture migration. Finally, the course will cover failures related to texture changes and how establishing a critical water activity can prevent failures. Attendees will be equipped to pursue attainable shelf-life testing on their own products and prevent future product failures through water activity control.

Unfolding the Next Frontiers of Alternative Proteins

During this course, we will explore plant proteins from novel and upcycled sources, discussing their properties, functionalities, and applications across multiple food and beverage categories.