IFT FIRST Call for Abstracts
IFT's Annual Event, Transformed!
IFT welcomes the submission of quality and original research focused on the science of food for presentation at IFT FIRST happening July 16-19, 2023, at McCormick Place in Chicago. This experience will bring together top scientists, researchers, and innovators from around the world to showcase recent findings and advancements in the science of food. IFT and its Divisions strive to showcase high quality, transformative, and applied research.

Students and professionals are encouraged to participate in IFT's Call for Abstracts submission process for an opportunity to present as a poster during IFT FIRST.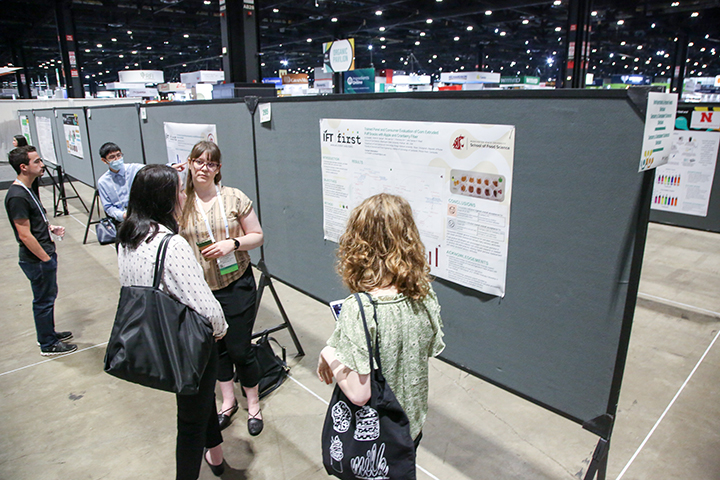 Bring your research to the forefront as a poster at IFT FIRST. Options available for poster presentation formats are listed below.
In-Person Presentation
All accepted abstracts will be invited to present a physical poster during IFT FIRST in Chicago, IL. Printed posters must fit on the 4 ft. tall by 8 ft. wide board that will be provided by IFT for your presentation. Presenters will receive IFT FIRST-branded poster templates that are optional to use. There will be two dedicated poster sessions where all accepted posters will be asked to stand next to their posters and engage with attendees. Posters are asked to remain up throughout the entirety of IFT FIRST (all 3 days) to increase viewership and exposure.
Virtual Presentation
All accepted abstracts must also submit a digital version of their poster (PDF and JPEG) and a 1-minute recording of their presentation. If you are unable to attend IFT FIRST in Chicago but would like to present information for a digital-only presentation, please see the note below. Exact material request subject to change.
Note on Digital-Only Presentations: While all accepted abstract presenters are highly encouraged to travel to Chicago and attend IFT FIRST in-person to present their poster, IFT would like to accommodate those who can't travel due to rapidly changing environment and potential travel restrictions. Therefore, digital-only presentations will be accepted on a case-by-case basis. To allow for adequate logistical planning, the last date to withdraw your poster or confirm a digital-only presentation is May 1, 2023.This request must be sent via e-mail to [email protected] by May 1, 2023. No exceptions past this date will be accommodated.
Graduate Student Oral Competitions
While submitting your abstract, qualified graduate students may indicate their desire to be considered for Division Oral competitions. Note that not all Divisions may host a competition due to the number of qualified applicants. Competitors must be IFT student members at the time of submission. In order to be inclusive of travel guidelines and to accommodate all finalists, all IFT FIRST competitions will take place virtually. Please read more in the competition guidelines.
More information about how to participate in the Call for Abstracts process, or to sign up to serve as an abstract reviewer can be found on the submission site.