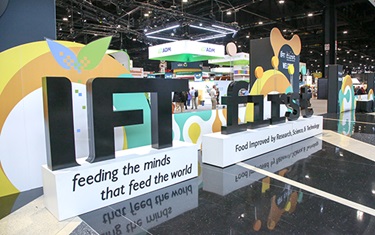 IFT FIRST: Annual Event and Expo is the place where science of food professionals gather to debate and discuss science and new innovations, explore ingredients and technologies for the future, and collaborate on key issues impacting the global food system.
Careers are long. Time is precious. You can maximize your time to connect, learn, and experience innovation firsthand at IFT FIRST. Here are some stats from those who attended in 2023!
A total of 75 countries were represented at IFT FIRST
More than 5,000 attendees visited the Scientific posters area
Startup Pavilion continues to be a stronger performer - with more than 8,700 people spending an average of 41 minutes
What Can You Expect in 2024?
A Food Expo featuring more than 1,000 exhibitors offering the latest in food science intelligence, non-stop food tastings, and exposure to food tech innovation.
More than 100 scientific sessions and multi-disciplinary discussions focused on ground-breaking science and solutions in novel technology and innovation, sustainability and climate, food safety, and more.
Nearly 500 posters featuring cutting-edge science and research impacting the future of food.
Multiple opportunities for high-value, intentional networking with science of food professionals who can help you achieve your goals. Set up your own meetings with your colleagues and participate in Braindates for peer-to-peer engagement.
Fireside chats and Business FIRST sessions on the Expo floor offering attendees 20- to 30-minute case studies and presentations on trends, ingredients, and applied science.
More than 95 food and food tech startups plus a multi-day pitch competition in the Startup Pavilion.
And, as a bonus, post-event attendees will have access to more than 110 pre-recorded presentations from scientific speakers who have been accepted to present at IFT FIRST.
Explore our programming:

Science FIRST Business FIRST Startup Pavilion The Expo Experience
Who Attends IFT FIRST?
The ability to network and connect with peers and collaborators within the science of food community is of paramount importance when it comes to deciding on where to spend your time and resources. Consider this circle of attendee job functions and industries who will be represented at IFT FIRST.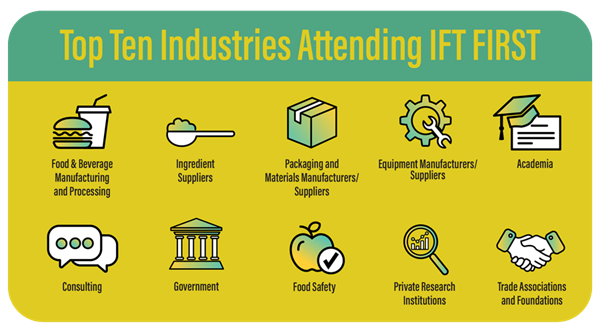 Top Job Functions of Attendees
R&D / Product Development / Innovation
Purchasing / Procurement
Academia/Research/Education
Research Chef / Recipe Developer/Culinologists
Supply Chain
Food Scientist / Formulator / Chemist
Package and process engineers
Food Safety / QC
Management
Marketing & Sales
Consulting
Startups and VCs
Your Experience at IFT FIRST
Knowing the who, what, and why of an event is important in the decision-making process, but you may be wondering what the experience might be like for you.
Answer this simple question and click on the link to see your IFT FIRST curated journey.
Which of the following most strongly aligns with the reason you want to attend IFT FIRST?
I want to support my company
With new business and product acquisition
In learning about competitors
In deepening relationships with current customers
Stay abreast of new innovations or trends.
Find solutions to problems with current or future products.
To present and share my research.
Learn from colleagues in the science of food community.
Making the Case with Your Employer
In today's environment, registrants need to be able to make a compelling appeal to gain buy-in from their employees. IFT wants to help.
Below is a downloadable toolkit including justification letters that you can use to make your case. All justification letters are available for download as word documents.