An Interactive, Real-World Product Development Experience
Marking its second year at IFT FIRST, the Innovation Lab is an engaging, interactive experience focused on real-world product development scenarios that will challenge participants to think bigger and bolder.

Participants will embark upon an immersive experience that brings this year's theme, "Innovation in a Time of Crisis: Can We Future-Proof the Food System?", to life in ways that will inspire new thinking, spark bold ideas, and help make lasting connections.
The world needs your perspective and brilliant ideas. The Innovation Lab is designed to help make that happen.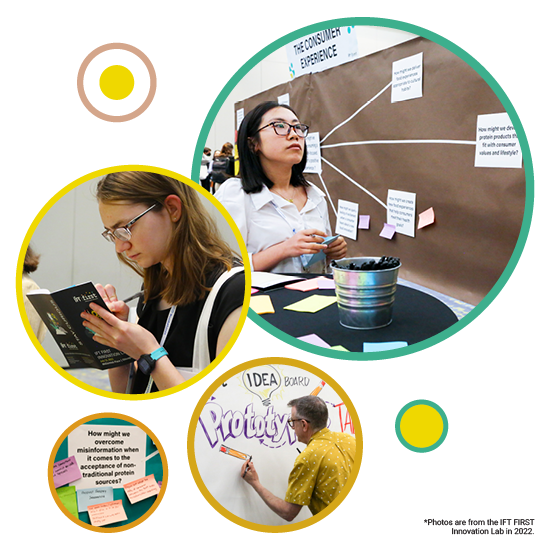 At the Innovation Lab, you'll:
Begin your journey by Choosing a Consumer Profile and put yourself in their shoes to understand their motivations and needs.
Challenge Your Understanding by immersing yourself in various crises facing the world by viewing them through the lens of past, present, and future. The five crises align to:

Consumer Trust
Digital Transformation
Food Safety
Health & Nutrition
Sustainability & Climate

View different scientific session and poster summaries to Get Inspired by work being done in the profession, work you'll only see at IFT FIRST.
Think through all elements of your idea and Bring It to Life by developing a prototype

Your idea could be prototyped by one of our professional artists or by an artificial intelligence (AI). How will they compare in bringing your idea to life?

Share Your Optimism about how, as a community, we can work together to overcome any challenge.
Choose Your Own Adventure
The structure of the Innovation Lab allows you to have the freedom and flexibility to stop by for just a few minutes to see what the hype is all about or to progress through the experience in a step-by-step manner, from start to finish. Participants will be provided with a booklet to guide them through each step of the experience. Come as you are or bring your team to participate!
Attendees will come away inspired, full of ideas, and wanting more!