IFT FIRST Startup Pavilion
Innovation and the spirit of entrepreneurship. It's all on full display at the Startup Pavilion where 100 food and food tech businesses in all stages of growth showcase cutting-edge solutions and applications.
Be a spectator and experience The Pitch – a speed pitch competition where participating startups can share their vision on why their business is an example of the future of food.
Stop by the Startup Pavilion and see what's up and coming within the science of food – exclusively in the IFT FIRST Expo.
View 2023 Participating Startups
Are you a startup founder or interested in sponsorship? Learn how you can get involved.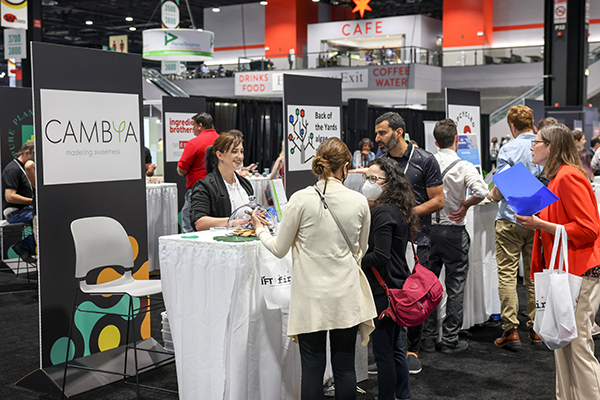 IFT FIRST 2022 Startups
| | | |
| --- | --- | --- |
| Ancient Brands Milling | Green Era | Prodigest |
| Antithesis Foods | Heliae Development | Purdue University |
| Apparo, Inc. | Index Biosystems Inc. | QALIPRO |
| Attribute Analytics | Ingredient Brothers | Rollicking Buckaroo Pepper Jam |
| AWESOME | Innobio USA Inc. | Sustain-A-Grain |
| Back of the Yard Algae Sciences - The Plant | Innovafeed | Terviva |
| Banzo Brands | Lemnature AquaFarms USA, Inc. | The Food Shop |
| Blue Canopy Biotech | Levelle | Thimus |
| Cella Farms | Llama Naturals | Triplebar Bio Inc. |
| Chickp-Protein | MycoLogic | Upcycled Foods Inc (dba ReGrained) |
| Creative Ingredients for Wellness | Nutraberry | Vegify |
| Dvash Organics | Opera Bioscience | Victory Hemp Foods |
| Equinom LTD. (2022 Startup Pavilion winner) | Otrafy | B.T. Sweet |
| Evergrain Ingredients | Paragon Pure | CANE'd |
| GHP Consulting and Testing LLC | Pearl Crop, Inc. | LusOasis |
| GREAT LAKES MILLING CO INC. | PLANETARIANS | Uwraps |