Engage Your Senses at IFT FIRST Food Expo
Welcome to the future of food! See, taste, hear, smell, and feel what's happening in the science of food. Experience the latest technology in the food industry. IFT FIRST brings together professionals, industry leaders and innovators from around the globe to explore the latest cutting-edge technologies and innovative solutions to challenges impacting the global food system. At the Expo, you'll discover the newest technologies and products, plus learn from experts that are revolutionizing the science of food community. What can you expect at the IFT FIRST Food Expo...A LOT!
What's New at the Food Expo!
Taste of Science Stage
Inspiring 15-minute presentations showcasing how ingredients and science meld together. Be sure to stay for a special general session Wednesday, July 19 at 10:30 a.m. CT.
IFT's Exhibitor Locator Service
Check in here for recommendations on the best solution providers to support the products and services you are seeking
Self-guided Expo Hall Tours
Interested in charting your own path around the Expo Hall? Grab a map to find exhibitors who are showcasing new products and/or services including those featured on the Taste of Science stage.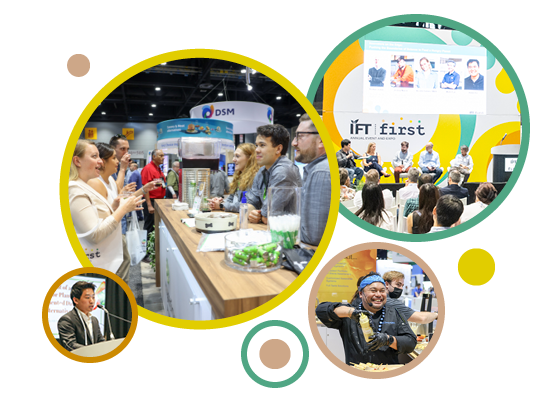 Curating Your Expo Hall Experience
With over 850 exhibitors showcasing food and food science intelligence, non-stop samplings, demos, and tastings, the opportunities to connect with the most qualified ingredient, equipment, and technology providers is endless. And, did you know there is so much more happening exclusively on the Expo Floor including:
Daily access to our intelligence partners Innova, Mintel and SPINS who will showcase the latest food trend information and research.
The return of two attendee favorites. Visit specialized pavilions focused on food safety and organics and be sure to check out two newly-added agriculture pavilions from the Illinois Department of Agriculture and the State of Iowa.
Business FIRST is the place where you'll find live panels discussions focused on the business of food.
Visit the Startup Pavilion where 100 food and food tech startups showcase cutting-edge solutions and applications. Stay for The Pitch on Wednesday, July 19 where startup participants take part in a riveting speed pitch competition.
Hot tip 1: You can bookmark your favorite exhibitors via the IFT FIRST My Planner tool. It's where you can save your choice of new suppliers, products, services plus review the complete list of exhibitors by alpha or category type.
Science FIRST in the Expo Hall
You also won't want to miss all the scientific programming happening live from the Expo Hall including:
Research Showcase & Posters
Fireside Chats
Taste of Science General Session*
Innovation Lab*
*must-attend events on Wednesday
Explore these Science FIRST programs and more by visiting the Science Sessions Overview page.
Connection and Amenities in the Expo Hall
IFT Member Central Booth
Learn about IFT membership, attend a networking event open to all, or simply stop by to say hello.
Hot Tip 2: IFT Members can get a complimentary headshot exclusively at the booth! If you aren't a member, consider joining today!
IFT Global Hub (formerly International Lounge)
Meet up with colleagues and make new connections with other global travelers to IFT FIRST.
Recharge and Workspace Lounge
Take a moment to rest, check your email and charge your electronic devices.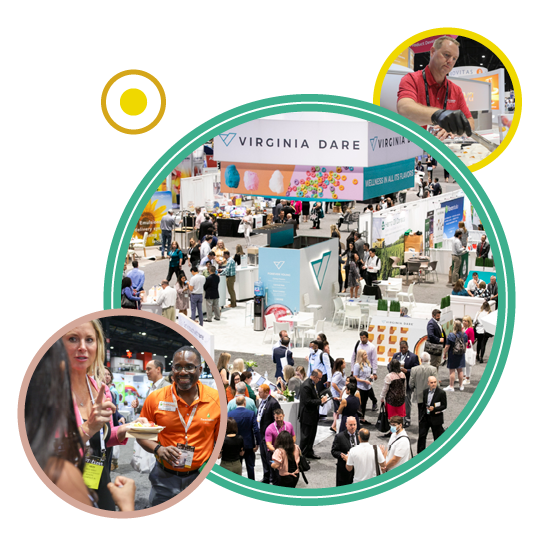 Expo Hall Resources and Information
Review a snapshot of exhibitors below. Check out the full plan or explore the full list of exhibitors via the links below:
Search IFT FIRST Exhibitors Explore Floor Plan
Exhibitor Preview List
Alchemeat
Edlong

LBB Specialties
Ajinomoto
Eurofins
MicroDried
Alianza Team USA
Enzyme Development Corporation
MicroThermics
Almond Board of CA
FlavorSum
Mintel
Ardent Mills
Florida Food Products
Motif FoodWorks
Barentz
Grain Processing Co.
NETZSCH
BENEO
Gelita
Nexira
Bartek
GEA Group
NiuSource
Bepex
Givaudan
Otrafy
BioVeritas
GNT
Paragon Pure
Blue California
Helaina
Prinova
Blue Nalu
Hilmar Ingredients
Quadra Ingredients
Butter Buds
ICL Food Specialties
Revela Foods
Caldic
Ingredion
Richardson Food & Ingredients
California Natural Color
Innophos
Roha
Cargill
Innova Market Insights
Schrodinger
CINDE
Innovafeed
Sweegen
Clextral
Jungbunzlauer
Tate & Lyle
Colony Gums
Layn Natural Ingredients
Virginia Dare
Custom Flavors
Leprino Nutrition
Visionary Fiber Technologies
DSM
Lemnature AquaFarms
Wintersun
Interested in being an exhibitor or sponsor?
Explore Exhibitor and Sponsorship Opportunities
Interested in showcasing your startup or being a startup pavilion sponsor?
Explore Opportunities
Co-Marketing Partners
We appreciate our co-marketing partners from around the globe!